Youth Ministries
Youth Summer Trips

WoodsWork is a Woods Church organized and planned HS mission trip. Thirteen HS Youth and six Adults (The WoodsWork Committee) work together under the Woods YATF Ministry to plan the trip. Trip participants build and/or restore houses for the homeless, perform other construction related mission projects, and participate in fellowship, recreation and worship. WoodsWork focuses on reaching out through service and reaching in through spiritual renewal. WoodsWork has been working with Habitat for Humanity for over 35 years providing new and refurbished homes as well as other mission related projects.

The dates for the WoodsWork mission trip have been revised they are now June 25 - July 3, 2022 Register Here.
Thank you, WoodsWork Committee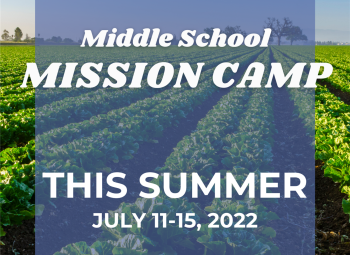 The Youth Ministry would like to invite all incoming Middle Schoolers to graduated Eighth Graders to register for the Second Annual Middle School Mission Camp!! Register here.

This week our youth will partner with over ten mission partners of Woods Church within our local community and abroad. Experience the gift of service leadership for five days right here in your backyard. We've been taught that Christ calls us to serve our neighbor and what better way to do so than with your friends! Please join us this summer, July 11-15, as we serve God's people.

This Mission Camp was inspired by Woods' promise to become a Matthew 25 Congregation. By accepting the Matthew 25 invitation, Woods Church will help our denomination become a more relevant presence in the world. We recognize Christ's urgent call to be a church of action, where God's love, justice and mercy shine forth and are contagious. And we rejoice how our re-energized faith can unite all Presbyterians for a common and holy purpose: our common identity to do mission. Throughout the week your Middle Schooler will embrace the key actions of this passage: thirst, hunger, clothing, imprisonment, shelter, and care for your neighbor.

Mission Partners: Hope for All, Living Water, Arundel House of Hope, Lighthouse Shelter, Habitat for Humanity of the Chesapeake, Earth Care, SPAN, Drink at the Well, CEDEPCA, Iglesia Presbyteriana Reformada, and Ministry of Hope.

There is space for 40 middle schoolers, but we can adjust if we have a larger interest. If you are a parent and would like to volunteer for one afternoon, please let Elizabeth know.
July 18-25 Montreat - More information to come.
Empowering Youth and Their Families for Lifelong Discipleship
Welcome to Youth Ministry at Woods Memorial Presbyterian Church. We welcome all who feel young at heart, but specifically 6th-12th graders. If you or your teens are looking for an uplifting community and safe space then you have found the right place. We offer Sunday School for all grades in Middle and High School as well as 8th grade Confirmation. Our Youth Group meets every Sunday evening from 5:30-7PM to play games, eat dinner together, and grow closer to God as a community. There are fellowship groups that meet at various times throughout the year for our different age groups. Join your appropriate grade level class in realm to receive weekly emails to learn more about what is going on in Youth Ministry.

To view Youth Ministry at a glance for 2021-2022 please click here.
To volunteer to provide dinner at Youth Group please click here.

Confirmation registration has begun. To complete registration please follow this link to pay the Confirmation Fee.