Care For Our Community
Caring for each other is an important part of who we are at Woods Memorial Presbyterian Church. We have many resources available for our community (local and global) and our congregation. Please see below some of the ways we can care for you, or you can help us care for others. If you are in need, or if you have a heart to give care, Woods is here for you.
Pastoral Care
Deacons
The deacons offer care, support, and sympathy to the Woods family as an extension of the Pastoral Care team. By virtue of their ordination vows, Deacons are called to model the love of Jesus Christ, to witness to God's Grace in their lives, and to evidence forgiveness, kindness, gentleness and thanksgiving in their lives. Deacons, as officers of the Church, will pray for each other, will keep confidences, and will promote the peace, purity and unity of the Church. The Deacons will hold as their primary responsibility the ministry of care, support and sympathy. They serve in many ways, including home communion, All Saints banner procession, senior fellowship events, homebound friends contacted each month, flower arrangements delivered to those dealing with sickness and loss, cards sent to the healing, bereaved and homebound... and many other.
Stephen Ministry
A Stephen Minister is a supportive Christian friend who walks beside a person experiencing a difficult time in their life. By meeting and talking one-on-one, the Stephen Minister provides a safe, confidential place for exploring feelings, spiritual questions, hopes and dreams, fears and challenges. There is no limit to the length or the depth of the relationship. Active listening skills, reflection, acceptance and love are a few of the gifts the Stephen Minister brings to the caring relationship. Whether expecting twins, dealing with a cancer diagnosis, struggling with how to best care for an aging parent or a rebellious teenager, grieving a loss or anticipating retirement, you do not have to do it alone. Jesus said, "Bear one another's burdens." (Gal. 6:2) Stephen Ministry is one way of doing this.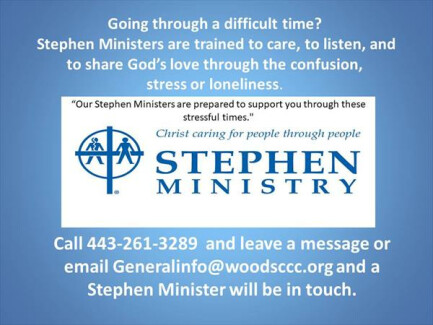 Stephen Ministers...
Receive 50 hours of training. A new class of Stephen Ministers is trained each year, meeting one night a week and several Sundays, from January through May.
Make a two-year commitment.
Meet on the 2nd and 4th Wednesdays and Thursdays of each month, once training is completed, for continuing education and support.
Keep all they hear in the strictest confidence.
Care for one person at a time meeting once a week for about one-hour.
Prayer Tree
A group of people who pray daily for the confidential prayer requests submitted to Woods. Organized in an email tree and phone tree, they care for the prayer needs of the congregation and its many friends. Anyone may participate in prayer or in giving requests.
Prayer Shawl
Prayer Shawls are lovingly knitted by this ministry and offered to members of the congregation who need a healing touch. The shawls are knitted with prayer and blessed by the hands who make them.
Noah's Ark
This ministry hosts an annual Blessing of the Animals event and sends loss of pet condolence cards.